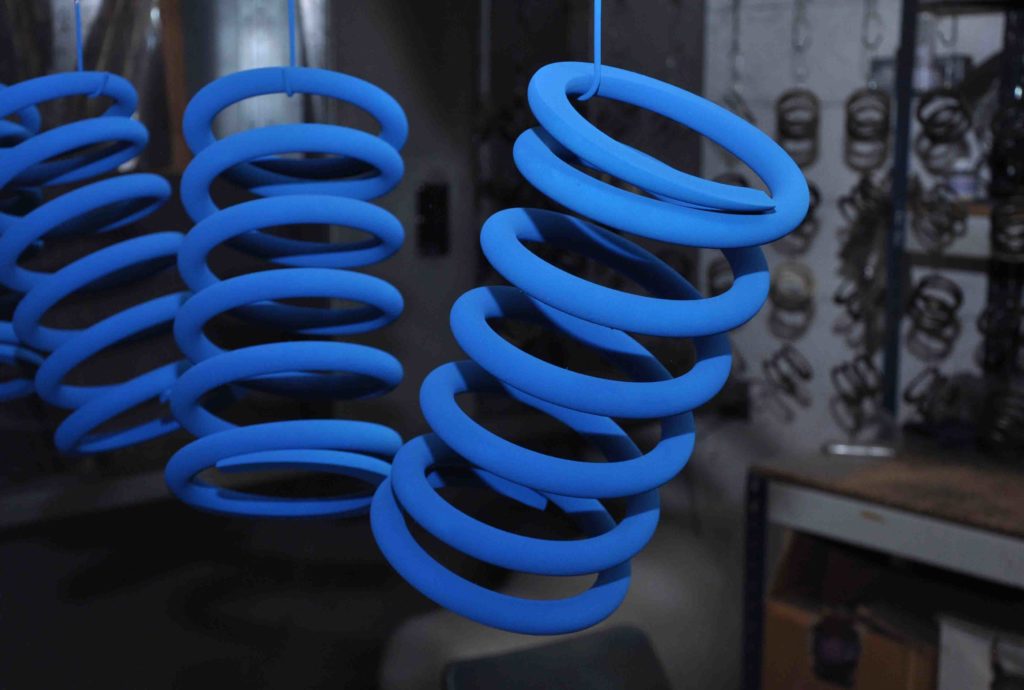 The superior hard finish qualities of powder coating include:
UV light resistance.
Weather resistance.
Corrosion resistance.
Strong Chemical, Solvent, Acid and Grease resistance.
Strong Chip, Scratch and Abrasion resistance.
Gloss finish.
Uniform quality finish without runs.
Complete coverage – even on complex shapes.
High repeatability.
Cost efficient – even on small batches or single items.
Available in a variety of colours, this hard wearing, durable protective coating ensures colour retention.
Popular RAL colours are:
Black 9005
Blue 5010
Red 3020
Yellow 1007
Yellow 1028
Orange 2004
Grey 7106
Grey 7040
White 9016
Green 6005
Where high corrosion is a risk, items can be pre-treated with a rich Zinc-Primer undercoat. Please see our Zinc–primer page for more information.
If you have a Powder coating enquiry please contact us to discuss it.
Springcoil can offer a powder coating service on all of our springs, anti-roll bars, pressings, wire forms and R-clips supplied across all industries and is particularly popular for our clients in the Automotive Springs, Sport, Leisure and Local Authority sectors.
This dry finish process uses finely ground particles of pigment and resin that are electrostatically charged and sprayed onto electrically grounded parts.
The parts are then cured via a heat treatment which melts the particles and fuses them into a uniform coating which completely covers the part, even complicated shapes, and out performs traditional wet paint as it provides a superior 'wear and tear' resistant coating.
All products are individually hung to ensure no water gets onto the bare metal which could result in failure or fatigue due to rusting, and every hook mark is inspected and re-touched to ensuring full surface coverage.