In this type of spring the torsional force is applied to the body of the spring via the legs, the direction of coiling determines the direction of use i.e. clockwise or anticlockwise rotation.
Materials are generally Stainless steel type 302 or 316, or high carbon alloys.
There are numerous options for leg configuration and will predominantly be determined by the method by which they are attached to the mechanism as a whole. We can offer a wide variety of options to include: straight legs, loops, complex bends and double torsion varieties.
A torsion spring can be closed or open wound and are usually designed to wind up.
As a torsion spring winds up, the coil diameter will decrease and the body length will increase.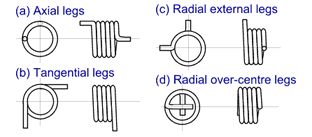 A typical application of larger type torsion springs is in assisting the raising and lowering of ramp doors on the rear of commercial vans and horseboxes etc. Smaller applications include sports equipment, hinges, handles and locks.
We hold an extensive database of spring specifications which can be made to order, but can also produce units to your own specification working from either a brief, technical drawing or by reverse engineering your supplied sample using our 'In house' specialist testing equipment, to provide the best advice on design, materials, processes and finishes.
If you have a Torsion spring requirement, please contact us to discuss it.