Automotive Suspension Springs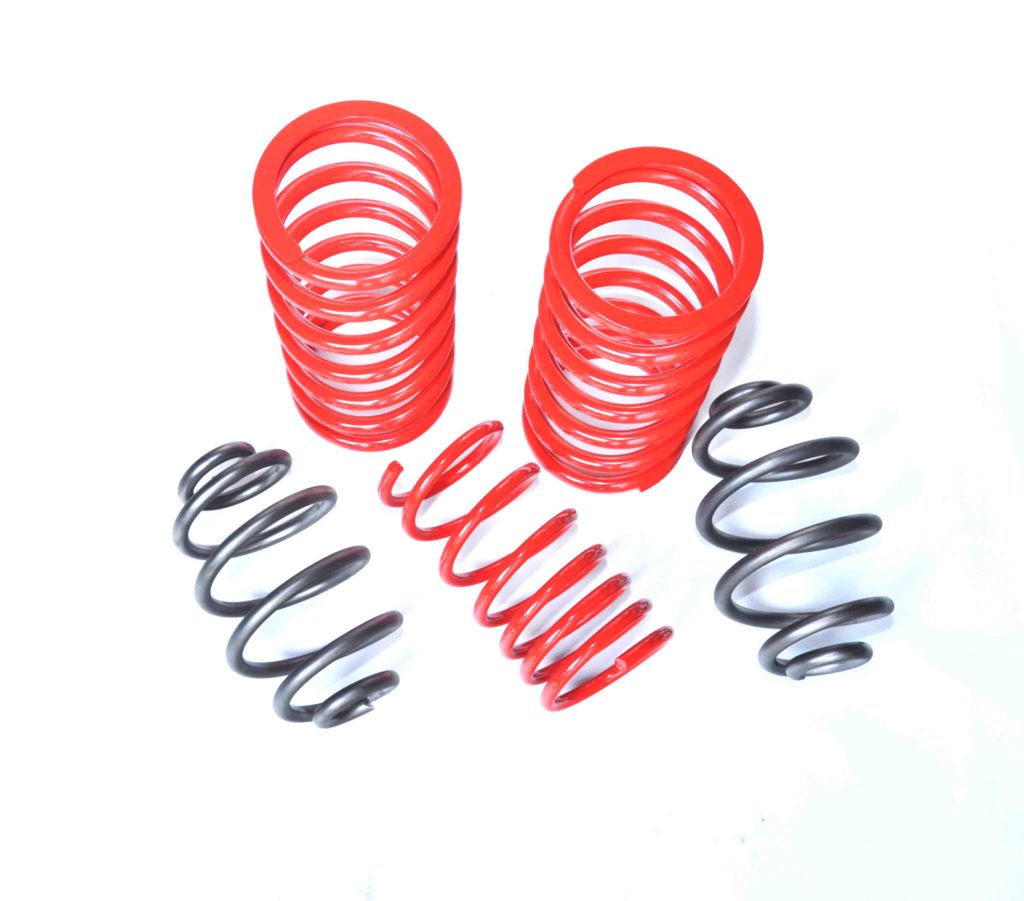 From current to classic, Rolls Royce's to Ford Cortina's and Motorcycles we've been delighted to supply customers with Automotive Suspension Coil Springs since 1983.
Manufactured 'in-house' to our exacting standards using the finest high duty dynamic materials – Silicon Chrome and Chrome Vanadium.
All springs are heat treated within strict guidelines to ensure optimum hardness and ultimate performance, and the surface is Shot Peened and Powder coated to provide a long fatigue and rust resistant life. They do not settle after a period of time as they are pressed to their coil bound length and return without any settlement before they leave our factory.
Many of our spring applications are available from stock and can be viewed on our Ebay shop. We also hold an extensive database of spring specifications which can be made to order, but can also produce units to your own specification working from either a brief, technical drawing or by reverse engineering your supplied sample using our 'In house' specialist testing equipment, to provide the best advice on design, materials, processes and finishes.
Lead times for bespoke products is typically between 2 and 3 working weeks.
Standard Springs
Our Standard springs are perfect for replacing broken or tired units for all makes and models of vehicles, including Motorcycles, current or classic, especially for those where O.E. parts are no longer available.
Our range of 'off the shelf' Standard replacement applications are available via our Ebay shop.
Whatever standard spring you need, current or classic, we'd love to hear about it. 
Lowering Springs
Automotive Lowered Suspension Coil Springs are available for a wide range of makes and models, and are designed to reduce the ride height and provide improved handling for Fast Road, Track, Race and Rally.
Lowering springs can also be 'uprated' to further improve handling for some applications.
One popular use is with Vauxhall Vivaro, Renault Traffic and Nissan Primastar owners looking to convert their old work vans into camper vans, or for those Fast Road users simply wanting a sportier look. 
So if you have a requirement for a single vehicle or a complete race series/championship please browse our ebay shop or contact us to discuss the details.
Uprated Springs
These springs are designed to provide a stiffer less compressible suspension, typically used to provide a heavy-duty replacement for a standard spring in applications such as towing, off-road/4×4, increased payloads or to maintain a higher ride height.
Uprating is generally achieved by either a larger diameter steel, by reducing the number of coils, or a combination of the two.
Uprating and lowering can be combined to provide a lower firmer ride.
This type of spring is most commonly used in Track, Race and Rally where comfort is of minor importance next to improved aerodynamics/handling/road-holding.
So if you have a requirement for a single vehicle or a complete race series/championship please browse our ebay shop or contact us to discuss the details.